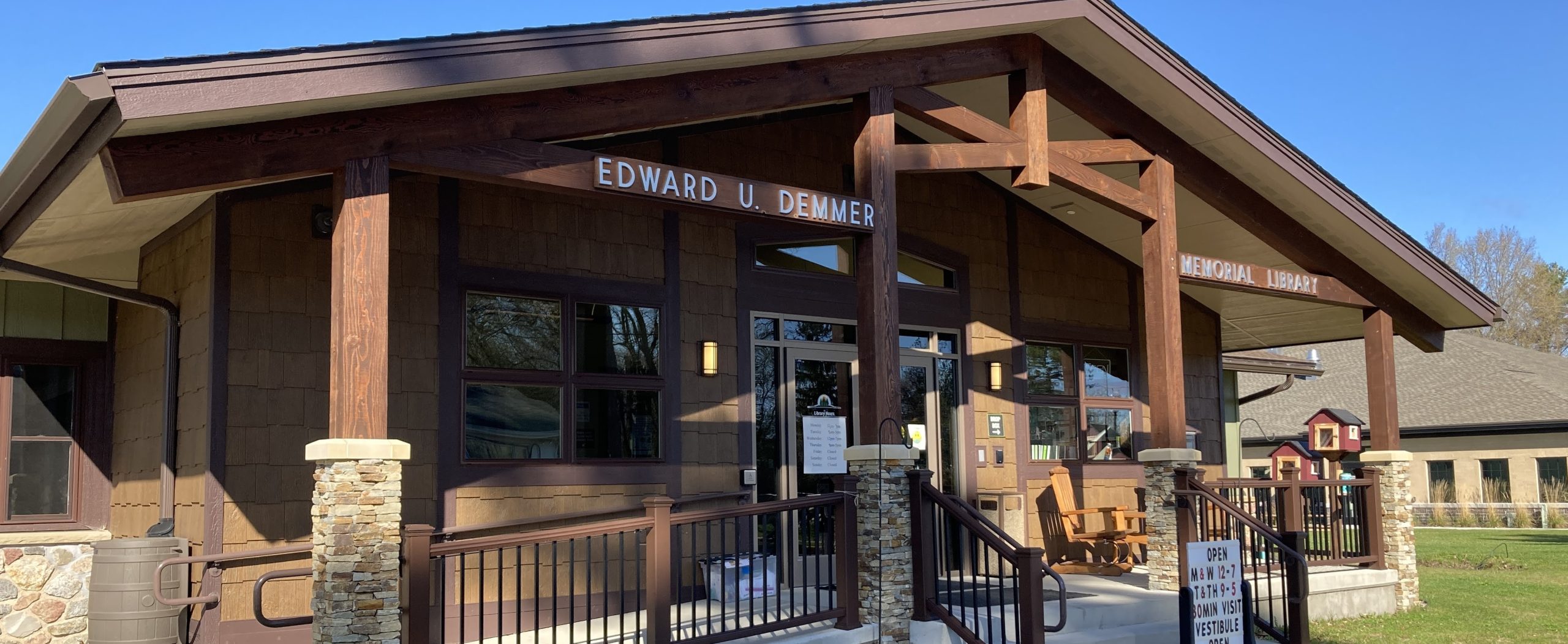 explore, learn, create, and share.

6961 W School St.
PO Box 760
Three Lakes, WI 54562
715-546-3391

Hours
Monday: 9 AM – 7 PM
Tuesday: 9 AM – 5 PM
Wednesday: 9 AM – 7 PM
Thursday: 9 AM – 5 PM
Friday: 9 AM – 5 PM
Saturday: 9 AM - 2 PM
Closed Sunday
Library meeting rooms are available for community groups and individuals to use when they aren't needed for library programs.
Lower level rooms
Lower level rooms are available for afterhours use by arrangement with library director.
Maple Room
The largest room, max capacity 50.
Appropriate for classroom-style lectures or larger trainings.
"Meeting Owl" and large screen TV for full videoconferencing capabilities.
Moveable tables and chairs.
Countertop for limited catering.
Tamarack Room
Medium-sized conference room with setup for 12-15
people.
Konftel videoconferencing equipment.
Conference technology, whiteboard, etc.
Spruce Room
The Spruce Room, like the upstairs study rooms, may be reserved in advance for one 2-hour timeslot during a week. All other use will be based on walk-in availability. The Spruce Room may be used for individual study after regular library hours.
Smallest room with seating for 6.
Intended for small workgroup meetings.
Desktop computer with webcam for individual videoconferencing.
Upper level rooms
Upper level rooms are only available during regular library hours. 
Study rooms 1 & 2
Study rooms may be reserved ahead of time for one 2-hour slot per week. All other use will be on a walk-in availibility basis in 2-hour timeslots.
Seats up to 3.
For single or one-on-one work, phone conference calls, test proctoring, etc.
Libratory
The Libratory is our most unique space. It is our "messy space" designed for hands-on and creative learning activities and is often set up with a drop-in activity. The room is only reservable with special arrangement with library staff.
Our "always open" drop-in policy during open hours means groups may use it, but the general public is
welcome to enter the room at any time or to participate in activties in the room.
We encourage groups to be open to sharing their making skills with visitors.
Maximum capacity: 15
Moveable tables and chairs, whiteboard, sink, countertop.
Room use rules and guidelines
Help us help you. Always register your group or sign in at the front desk to use the room. We'd rather not kick you out or move you if the room is reserved for somebody else.
For-profits welcome! If the room is not reserved for a library event or community group, small businesses are welcome to hold an event at a flat rate of $40/meeting.
The Libratory is considered a public space. All activities taking place in the Libratory must be open to the public.
Promote yourself! The library can't promote your program or take registrations for you.
Keep the space neat and clean. We're proud of our new building and you're a part owner. You're responsible for setting up and taking down tables and chairs as needed and for cleaning up after your program. Leave no trace, and we'll be happy to have you back.
Hallway and most room lights are automatic and on sensors. They'll turn on when you move and off when you leave.

Edward U. Demmer Memorial Library
6961 W School Street
PO Box 760
Three Lakes, WI 54562
Phone: 715-546-3391
Fax: 715-546-3914
| | |
| --- | --- |
| Monday | 9:00 am – 7:00 pm |
| Tuesday | 9:00 am – 5:00 pm |
| Wednesday | 9:00 am – 7:00 pm |
| Thursday | 9:00 am – 5:00 pm |
| Friday | 9:00 am – 5:00 pm |
| Saturday | 9:00 am – 2:00 pm |