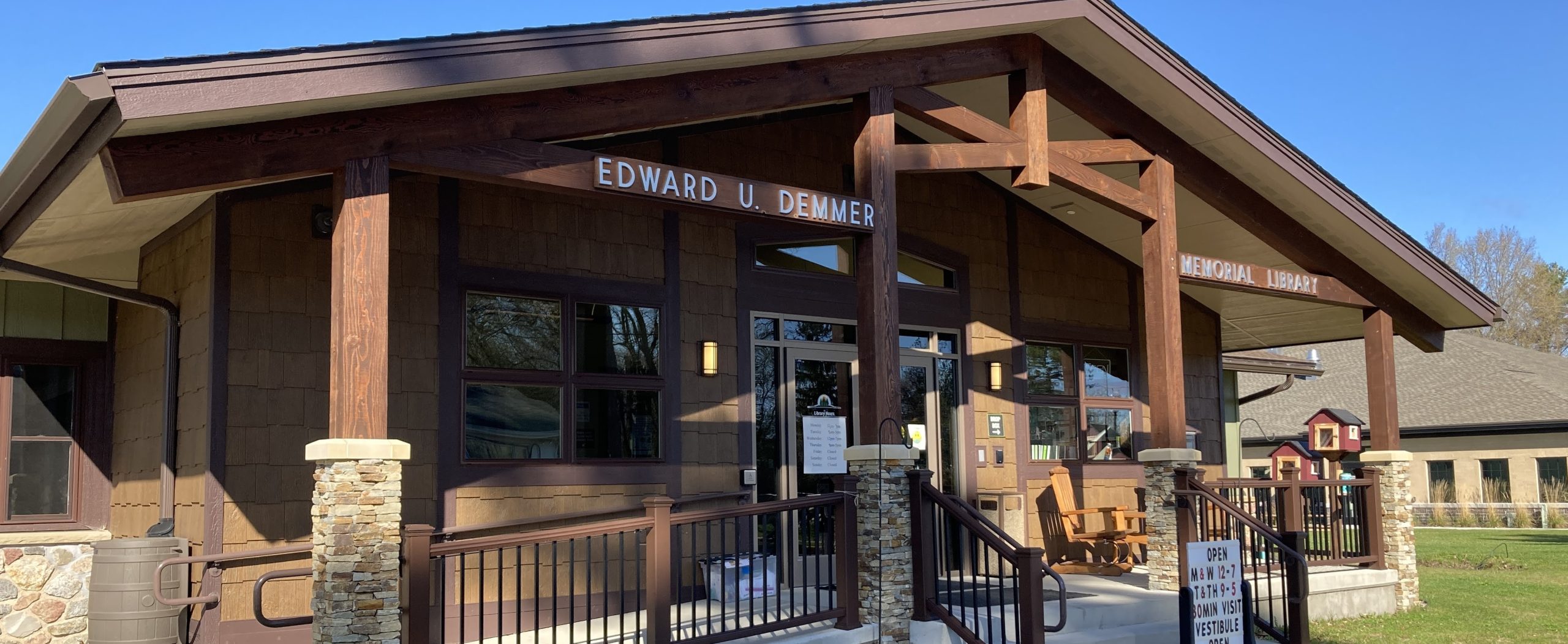 explore, learn, create, and share.

6961 W School St.
PO Box 760
Three Lakes, WI 54562
715-546-3391

Hours
Monday: 9 AM – 7 PM
Tuesday: 9 AM – 5 PM
Wednesday: 9 AM – 7 PM
Thursday: 9 AM – 5 PM
Friday: 9 AM – 5 PM
Saturday: 9 AM - 2 PM
Closed Sunday
The Demmer is open Monday – Saturday with full services during open hours. We can also accommodate after hours meeting room use – more information here. 
Regular library services include:
Books, DVDs, audiobooks on CD, magazines, kits, games, and some specialty items and equipment available for check-out.
Free public wi-fi in the building and outside of the building 24 hours, 7 days/week.
Public computer access with printing/scanning/faxing services.
Public seating spaces.
Private study rooms.
Newspapers, puzzle, Scrabble, games, coffee, and tea while you spend time at the Demmer.
Local history and genealogy research resources.
Free access to e-books, e-audiobooks, and e-magazines with an active library card.
Technology assistance.
Access to online resources for research, finding your next read, online training courses, and more.
Easy access to the Three Lakes Historical Museum visitor center and grounds, located inside and behind the Demmer Library!
Friendly staff happy to help you with any of these services or answering your questions!
In addition:
We continue to use our self-service vestibule:

Items requested for checkout will be on the cart to the right of the door as you enter, organized by last 4 digits of your telephone number.
Free magazines and puzzle exchange
Selection of used books, DVDs, and audiobooks: cash donations gratefully accepted in black box on cart.

We will deliver! Request home delivery by calling 715-546-3391 or emailing demmer@demmerlibrary.org
Curbside delivery will still be available upon request. Call us when you arrive and we'll bring your items out to you.
Newspapers: are now available for reading in the library.
Continue requesting materials to be placed on hold for you!
To request items:
Log on to the library catalog at http://catalog.wvls.org and select items to place on hold.
Email demmer@demmerlibrary.org with your request and phone number where we can reach you.
Call 715-546-3391 Monday – Saturday, or leave a message with your request and phone number.
We will contact you to let you know your materials will be ready for pickup in the vestibule.
 Resources included with your library card
Online resources available with a valid library card and your four digit pin number:
Library Hours
Monday: 9 AM – 7 PM
Tuesday: 9 AM – 5 PM
Wednesday: 9 AM – 7 PM
Thursday: 9 AM – 5 PM
Friday: 9 AM – 5 PM
Saturday: 9 AM – 2 PM
Closed Sunday
Ask a Librarian!
Have a question? Ask our librarians using the form below!

Edward U. Demmer Memorial Library
6961 W School Street
PO Box 760
Three Lakes, WI 54562
Phone: 715-546-3391
Fax: 715-546-3914
| | |
| --- | --- |
| Monday | 9:00 am – 7:00 pm |
| Tuesday | 9:00 am – 5:00 pm |
| Wednesday | 9:00 am – 7:00 pm |
| Thursday | 9:00 am – 5:00 pm |
| Friday | 9:00 am – 5:00 pm |
| Saturday | 9:00 am – 2:00 pm |