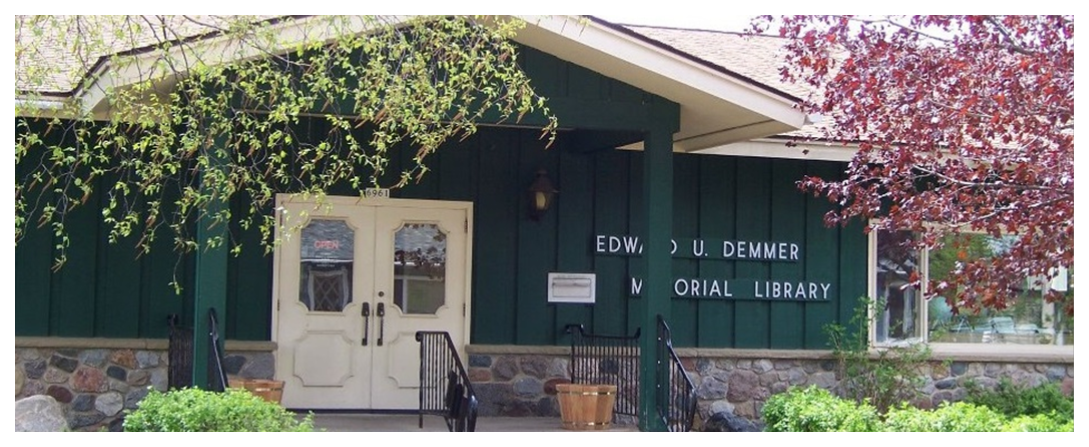 explore, learn, create, and share.

6961 W School St.
PO Box 760
Three Lakes, WI 54562
715-546-3391

Hours
Monday: 9 AM – 7 PM
Tuesday: 9 AM – 5 PM
Wednesday: 9 AM – 7 PM
Thursday: 9 AM – 5 PM
Friday: 9 AM – 5 PM
Saturday - Sunday: Closed
**UPDATED Friday, October 1, 2021**
We are adding services we feel can be done safely and as staffing allows. Check back to see changes. We appreciate everybody's patience and understanding as we figure this out! Most recent updates are listed in red.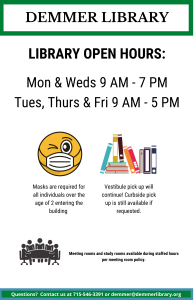 Open: Monday, Tuesday, Wednesday, Thursday, Friday.

Mondays and Wednesdays:

9 AM

– 7 PM
Tuesdays, Thursdays

and Fridays

: 9 AM – 5 PM
 

In-person services 

Visits no longer have time limits.

As of Monday, August 23, face masks will be required for all persons over the age of 2 entering the building.

Librarians will also be wearing face masks.

Self-service vestibule:

Items requested for checkout will be on the cart to the right of the door as you enter, organized by last 4 digits of your telephone number.
Free magazines and puzzle exchange
Selection of used books, DVDs, and audiobooks: cash donations gratefully accepted in black box on cart

Meeting rooms are now bookable for 2 hours time slots. You can make a reservation one time per week; further use will depend on availability.

Two study rooms for individual or 2 person use
Spruce Room: maximum 4 people
Tamarack Room: maximum 12 people
Maple Room: maximum 20
Call 715-546-3391 or email demmer@demmerlibrary.org to reserve
For full meeting room use policy, click here.

Printing/copying/scanning/faxing now available on a first-come, first serve basis during open hours.

You may also email a document that needs printing to demmer@demmerlibrary.org and we will print and have ready for you to pick up
We can help you with copying/scanning/faxing upon request

We will deliver! Request home delivery by calling 715-546-3391 or emailing demmer@demmerlibrary.org
Curbside delivery will still be available upon request. Call us when you arrive and we'll bring your items out to you.
Newspapers: we will not be purchasing the Journal Sentinel or State Journal. The Three Lakes News Review is now available for checkout. Northwoods River News, Lakeland Times, and Epoch Times (which we receive by mail subscription) will be available on the magazine exchange table to take/exchange, first come, first serve.
Requesting items for check out: You may now request items from all libraries in the WVLS V-cat system and state or nation via WISCAT.
Continue requesting materials to be placed on hold for you!
To request items:
Log on to the library catalog at http://catalog.wvls.org and select items to place on hold.
Email demmer@demmerlibrary.org with your request and phone number where we can reach you.
Call 715-546-3391 Monday – Friday, or leave a message with your request and phone number.
We will contact you to let you know your materials will be ready for pickup in the vestibule.
 Resources included with your library card
Online resources available with a valid library card and your four digit pin number:
Library Hours
Monday: 12 PM – 7 PM
Tuesday: 9 AM – 5 PM
Wednesday: 12 PM – 7 PM
Thursday: 9 AM – 5 PM
Friday: 12 PM – 5 PM
Saturday: CLOSED
Closed Sunday
Ask a Librarian!
Have a question? Ask our librarians using the form below!

Edward U. Demmer Memorial Library
6961 W School Street
PO Box 760
Three Lakes, WI 54562
Phone: 715-546-3391
Fax: 715-546-3914
| | |
| --- | --- |
| Monday | 9:00 am – 7:00 pm |
| Tuesday | 9:00 am – 5:00 pm |
| Wednesday | 9:00 am – 7:00 pm |
| Thursday | 9:00 am – 5:00 pm |
| Friday | 9:00 am – 5:00 pm |