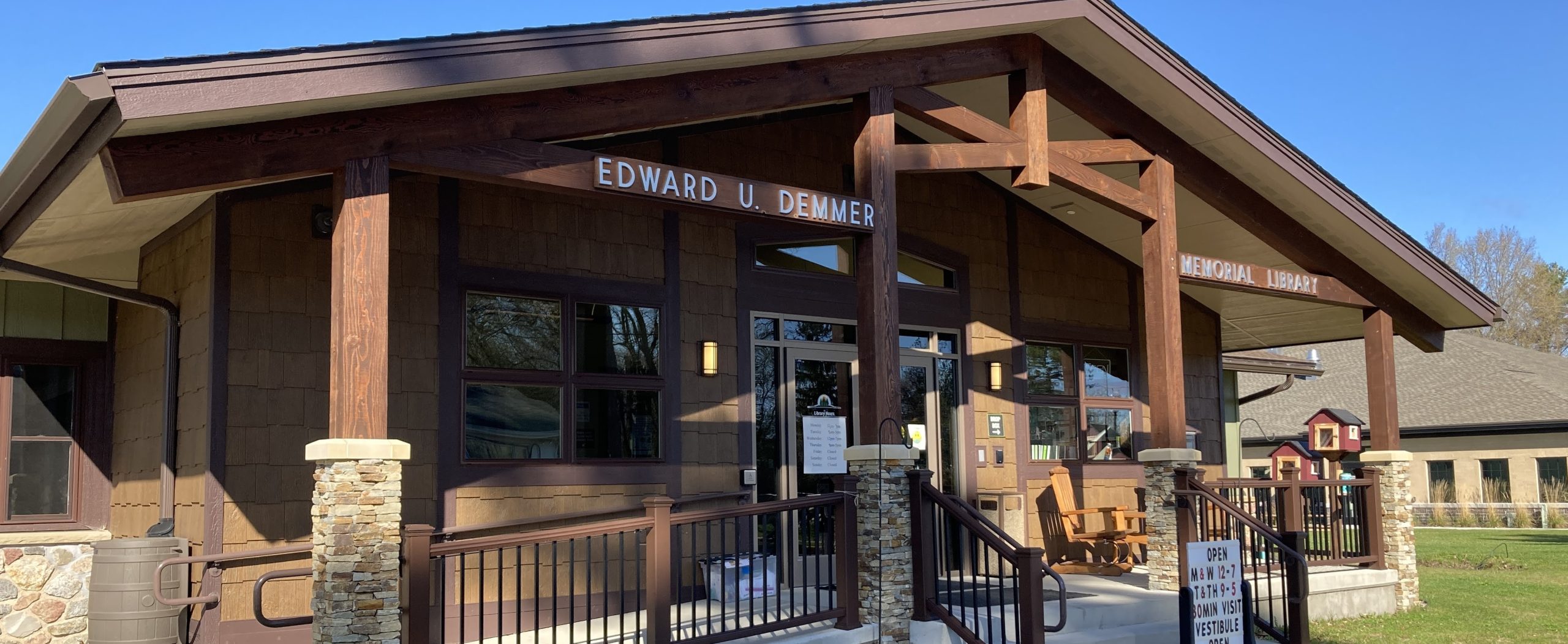 explore, learn, create, and share.

6961 W School St.
PO Box 760
Three Lakes, WI 54562
715-546-3391

Hours
Monday: 9 AM – 7 PM
Tuesday: 9 AM – 5 PM
Wednesday: 9 AM – 7 PM
Thursday: 9 AM – 5 PM
Friday: 9 AM – 5 PM
Saturday: 9 AM - 2 PM
Closed Sunday
Memorial Gifts
A donation to the Demmer Library is a special way to honor friends and loved ones while also supporting your local community. You can use a donation to the library to celebrate and commemorate birthdays, anniversaries, the birth of a child, a retirement, or in remembrance of somebody special.
A bookplate identifying the donor and the person being honored will be added to items purchased.
Click here to read the full Memorial and Donation Brochure with some suggested giving levels.
And we thank you for your gift and support.
Donation of Used Books
We appreciate your generous donations to the library.  The Demmer Library uses the proceeds from used book sales to benefit the library.
Due to an overwhelming number of donations and limited space we must restrict donations in the following categories:
Reference Books (Encyclopedias, Dictionaries, Thesauruses)
Self-Help Books (DIY repair manuals, Diets, Medical)
Textbooks
Reader's Digest Condensed Books
Old Books (Mildew, Musty, Water damaged)
Music (Sheet music, song books, etc.)
Multiple Volume Sets (Time Life Books)
For those books that we cannot accept please consider donating the items to St. Theresa's Thrift Store, downtown Three Lakes, or the Goodwill Store located at 2181 Lincoln St. in Rhinelander. Goodwill greatly appreciates donations of any type or condition and will give you a receipt for taxes.  (Goodwill will ensure the items are properly salvaged if they are not deemed usable.)
Thank you for your generous support of the Demmer Library. 
If you have any questions please ask a library staff member.
Donations to the Three Lakes Public Library Foundation directly support Demmer Library projects and programming. To learn more, visit: https://demmerlibrary.org/foundation/
---
Foundation Donation

Edward U. Demmer Memorial Library
6961 W School Street
PO Box 760
Three Lakes, WI 54562
Phone: 715-546-3391
Fax: 715-546-3914
| | |
| --- | --- |
| Monday | 9:00 am – 7:00 pm |
| Tuesday | 9:00 am – 5:00 pm |
| Wednesday | 9:00 am – 7:00 pm |
| Thursday | 9:00 am – 5:00 pm |
| Friday | 9:00 am – 5:00 pm |
| Saturday | 9:00 am – 2:00 pm |