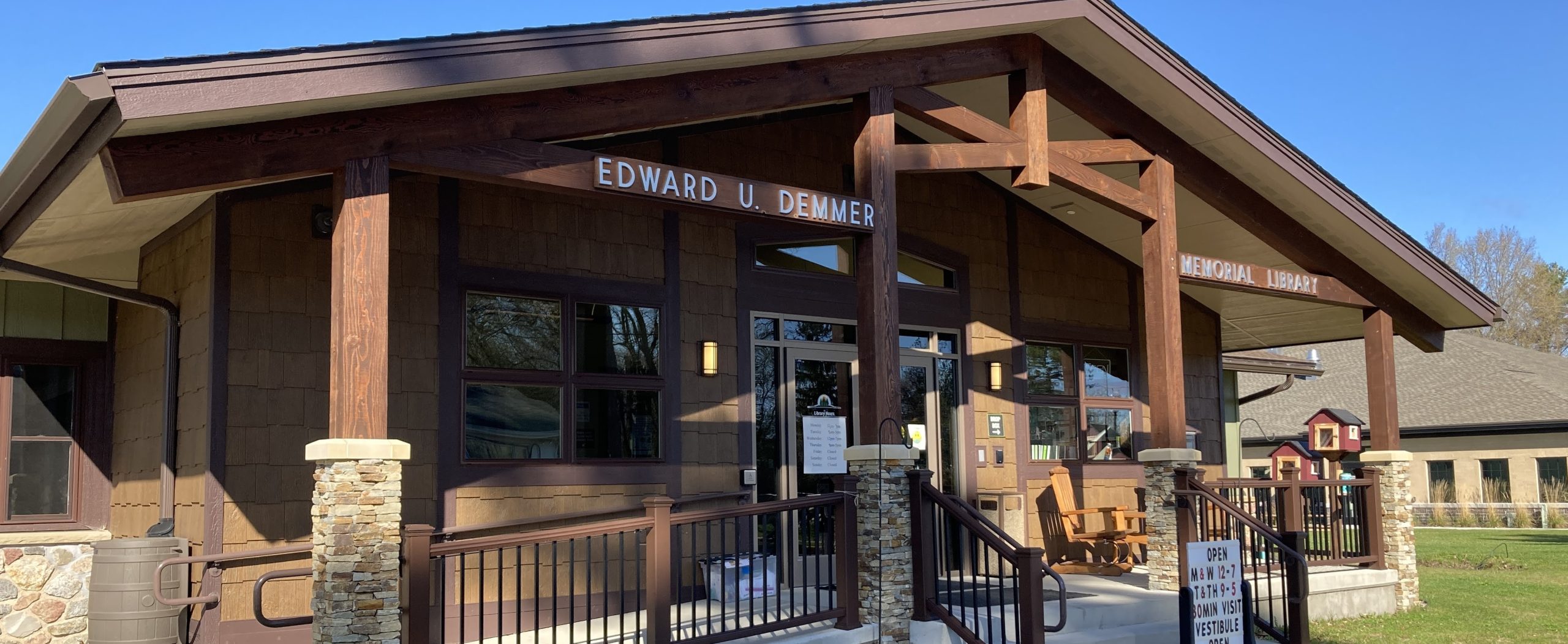 explore, learn, create, and share.

6961 W School St.
PO Box 760
Three Lakes, WI 54562
715-546-3391

Hours
Monday: 9 AM – 7 PM
Tuesday: 9 AM – 5 PM
Wednesday: 9 AM – 7 PM
Thursday: 9 AM – 5 PM
Friday: 9 AM – 5 PM
Saturday: 9 AM - 2 PM
Closed Sunday

Frequently Asked Questions
May I use my card at other public libraries?
Yes! You may use your card at the following public libraries:
Rhinelander District Library
Minocqua Public Library
Abbotsford Public Library
Antigo Public Library
Colby Public Library
Crandon Public Library
Weix Memorial Library (Dorchester)
Western Taylor County Public Library (Gilman)
Greenwood Public Library
Edith Evans Library (Laona)
Loyal Public Library
Marathon Co. Public Library (Wausau) and its Branches
Frances L Simek Memorial Library (Medford)
T.B. Scott Library (Merrill)
Owen Public Library
Rib Lake Public Library
Jean M Thompsen Memorial Library (Stetsonville)
Thorp Public Library
Tomahawk Public Library
Westboro Public Library
Withee Public Library
Your Demmer Library card cannot be used at the Walter E. Olson library in Eagle River.
How long may I keep library materials?
Books and audiobooks: 3 weeks
New books and audiobooks: 2 weeks
Regular (movie) DVDs: 1 week
Series on DVD: 2 weeks
Music CDs: 2 weeks
Magazines, activity kits: 1 week
All items can be renewed up to two times if there are no other patrons waiting for the item.
How will I know when my materials are due?
When you check out materials, you will be given a slip listing what you have checked out and when those items are due back at the library. You can also receive reminders via email or text. As your librarian for details!
May I renew library items?
Most items may be renewed by using the Log in link of the library's catalog. Unless there is a waiting list, items may be renewed 2 times. Materials that are already overdue may not be renewed online. Patrons must call or visit the front desk to renew those items.
How much is an overdue fine?
The overdue fine for all materials is five cents per day. Items will generate a fine each day that they are overdue. Overdue materials will receive a status of "lost" after they are long overdue. Once an item is determined "lost" a replacement charge for the item will be added to your account and your account will be restricted. Patrons with fines totaling $3.00 or more are considered to have restricted accounts and may not check-out items and/or use the public access computers.
May I return materials to another library?
Yes, your materials may be returned to the public libraries listed above. You may also wait until the day they are due since they will be check in that same day at those libraries.

Edward U. Demmer Memorial Library
6961 W School Street
PO Box 760
Three Lakes, WI 54562
Phone: 715-546-3391
Fax: 715-546-3914
| | |
| --- | --- |
| Monday | 9:00 am – 7:00 pm |
| Tuesday | 9:00 am – 5:00 pm |
| Wednesday | 9:00 am – 7:00 pm |
| Thursday | 9:00 am – 5:00 pm |
| Friday | 9:00 am – 5:00 pm |
| Saturday | 9:00 am – 2:00 pm |