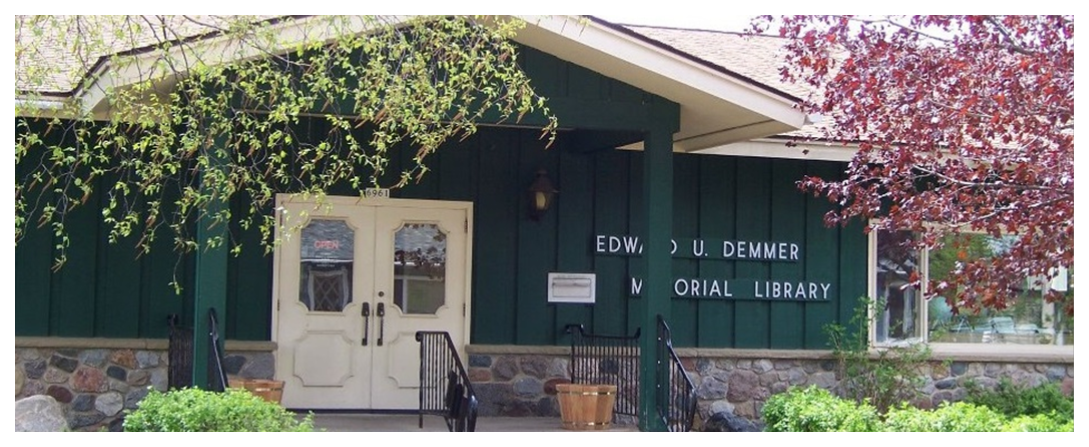 explore, learn, create, and share.

6961 W School St.
PO Box 760
Three Lakes, WI 54562
715-546-3391

Hours
Monday: 9 AM – 7 PM
Tuesday: 9 AM – 5 PM
Wednesday: 9 AM – 7 PM
Thursday: 9 AM – 5 PM
Friday: 9 AM – 5 PM
Saturday - Sunday: Closed
Technical Services Librarian / Library Accounts Manager
The Demmer Memorial Library in Three Lakes, Wisconsin, is seeking a full-time (38 hrs/week) Technical Services Librarian and Library Account Manager.  (whose first task will be coming up with a title with fewer than 18 syllables). Do you consider yourself someone who can easily adapt in a fast-paced environment? Do you have an impeccable sense of humor and an innate attention to detail? Our team is looking for the final piece of the puzzle and we hope that is you (as long as you play well with others). As a member of our team you will provide core library financial and library technical services as well as key reference and research functions.
The ideal candidate must demonstrate the ability to:
Plan, organize, and carry out the day-to-day financial activities of the library in compliance with state statute and standard public accounting procedures.
Implement the library collection development policy through selection of materials for purchasing, directing cataloging of all materials using RDA cataloging standards and retrieving and editing remote records using z39.50, and collaborating with the director and administrative team in deselection and replacement of materials in the collection.
Develop and maintain local authority file for nonfiction Dewey classifications to establish overall local authority control.
Oversee processing of interlibrary loan (Wiscat) requests, and preparation of items for patron check out and returning/lending to out-of-system libraries.
Coordinate and manage volunteers involved in materials processing, repair, or other areas core to the library collections.
Provide first-class service to library patrons in-person at the front desk by assisting with finding library materials, answering reference questions, and teaching new technology, while fostering a friendly and welcoming environment.
Work both independently and in collaboration with other staff and volunteers, always striving to provide the best possible library service to the Three Lakes community.
Starting salary is $13 based on skills and experience. Full benefits package available. Some evening and Saturday hours required.
Download a full job description here: 2021 Technical Services – Accounting Job Description
To apply: complete a technology assessment online or download and complete a Printable Technology Self-Assessment and submit with a letter of interest and an updated resume to demmer@demmerlibrary.org, subject line: Technical Services application. Application review begins November 1, 2021.
The Town of Three Lakes is an Equal Opportunity Employer

Edward U. Demmer Memorial Library
6961 W School Street
PO Box 760
Three Lakes, WI 54562
Phone: 715-546-3391
Fax: 715-546-3914
| | |
| --- | --- |
| Monday | 9:00 am – 7:00 pm |
| Tuesday | 9:00 am – 5:00 pm |
| Wednesday | 9:00 am – 7:00 pm |
| Thursday | 9:00 am – 5:00 pm |
| Friday | 9:00 am – 5:00 pm |